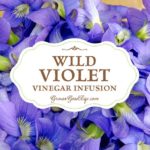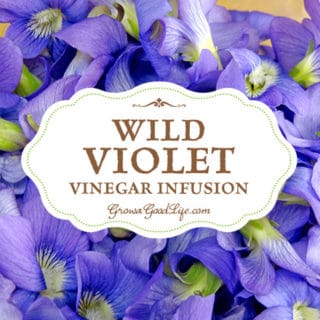 It is easy to make your own wild violet blossom vinegar. See how simple it is to infuse vinegar with a subtle violet sweetness and a purple flush of color.
pint

wild violet blossoms

(enough to fill a jar loosely packed)

1 1/2

cups

white wine vinegar

(or white, champagne, rice)
Equipment:
small sauce pan

1

pint

jar
Rinse the violets in cool water and spread them out on a clean kitchen towel to dry.

Loosely pack the violets into a clean glass pint jar. Set aside.

In a small saucepan, warm vinegar over medium-low heat to a simmer (not boiling). Turn off heat.

Carefully pour warm vinegar over the violets leaving about a 1-inch space at the top of the jar. Cover the jar and store in a dark, cool location for at least 2 days or up to a week. You should see some color right away, but the longer you infuse the vinegar, the darker the color.

Once the vinegar has turned a lovely shade of violet, strain out the blossoms and store the violet blossom vinegar in a clean glass jar or bottle. Compost the spent blossoms.