Zucchini Garlic Bites
This tasty recipe combines shredded zucchini with garlic, Parmesan cheese, fresh herbs, and is served with a marinara dipping sauce for an Italian inspired twist. Read More.
---
5 Steps to Storing Potatoes for Winter
Do you grow your own potatoes or buy in bulk from the farmers market? Follow these five easy steps to keep your potatoes fresh all winter long. Read More.
---
13 Quick Growing Vegetables for Your Fall Garden
Growing fall vegetables in colder climates can be a gamble, but these crops mature quickly so you can grow more food in your fall garden. Read More
---
Homemade Flour Tortilla Recipe
Making homemade tortillas is worth the extra effort because they do taste so much better than store bought tortillas with no additives. Try this simple homemade flour tortilla recipe and you will know exactly what ingredients you will be eating. Read More
---
30 Vegetables That Grow in Shade
Do you have an area of your garden that is shaded part of the day? If you think you can't grow anything there, you are wrong. There are many vegetables that grow in shade. Some even thrive when sheltered from the intense rays from the summer sun. Read More
---
Homemade Blueberry Syrup with Honey
This simple blueberry syrup with honey recipe can be made with fresh or frozen blueberries. You can also use other varieties of berries such as strawberries, raspberries, blackberries, cherries, or a mix of berries. Read More
---
DIY Self Watering Containers
Self watering containers are an enclosed growing system that decreases moisture evaporation and offers a consistent water supply to your plants. Many versions of self watering containers are sold online, but you can make them yourself for a fraction of the cost out of some easy to find items. Read More
---
Simple Seed Germination Test
Before you throw those old seed packages away, test them to see if they are still viable using this simple germination test. Read More
---
How to Propagate a Rosemary Plant from Stem Cuttings
It is easy to take rosemary cuttings from an established mother plant and grow new rosemary plants in containers that can be moved outside in summer and indoors in winter. Read More
---
How to Attract Frogs and Toads to Your Garden
Attracting and keeping frogs and toads in your garden will help reduce pest populations naturally without the need for pesticides. Here are some tips on how to attract and encourage frogs and toads to live in your garden. Read More
---
Fresh Strawberry Vinaigrette Salad Dressing
With just a few simple ingredients, this strawberry vinaigrette salad dressing is easy to whip up in a blender or food processor. Drizzle this tangy strawberry vinaigrette on freshly harvested salad greens or a mixed fruit salad. Read More
---
Growing Summer Squash Vertically
Growing summer squash vertically by trellising or in tomato cages helps to save space, encourages air circulation, and allows the squash to be more visible reducing the chance of overgrowth. Read More
---
How to Build a Square Foot Garden
Square foot gardening is an intensive, organized, and space saving way to get the maximum harvest and enjoyment from gardening. See how we built ours. Read More
---
Do you want to be notified when we add a new video? Signup for the newsletter below and we will let you know:
Good planning is key to a successful vegetable garden.
Whether you are new to growing your own food or have been growing a vegetable garden for years, you will benefit from some planning each year. You will find everything you need to organize and plan your vegetable garden in my PDF eBook, Grow a Good Life Guide to Planning Your Vegetable Garden.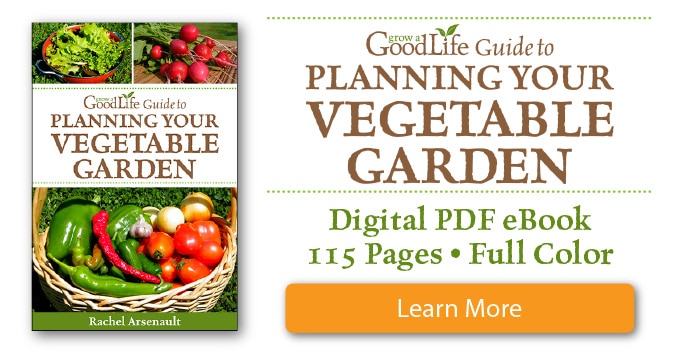 Never miss a post. Sign up for the free Grow a Good Life Newsletter and we'll send you an email with all the new articles posted on the website: