On Thursday, May 7th our blogging community was hit with a loss of someone very dear to us. Granny, of Annie's Kitchen Garden passed away after a brief but fierce fight with cancer. Her daughter, Amy broke the news and an online community mourns along with her family.
I am so thankful that Amy understood how important her mother's online community was to her and how special Granny is to us. Not only did she let us know when Granny left this world, she also shared a touching poem, photographs of Granny over the years, and a lovely video that provided us with a glimpse of her life and how much she loved and cherished her family (See Annie's Kitchen Garden).
It has taken me a while to be able to find the words to type this post. In my process of grieving, I found myself returning to Granny's blog and reading through the comments that others have left saying goodbye and offering condolences to her family. Somehow, I am consoled by these words. It is apparent that Granny was very special to many of her online friends.
Countless remarks have mentioned that Granny was the first to leave a comment on their blog when they were new to the blogging world. I checked back to my blog's early years and found one of Granny's comments within the first month I began blogging. She certainly knew how to make someone feel special.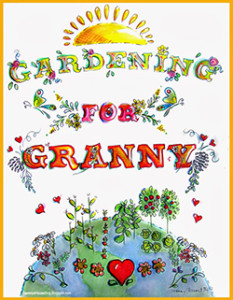 I have never met Granny in real life, but we've been on-line friends for five years. (See Gardening for Granny) She is among my garden blogger mentors. Usually when bloggers write a post, they write it as though they are speaking directly to their readers. When I wrote, I always had Granny on my mind because I knew she read each and every post and would leave a comment on most of them.
I am only just beginning to realize that blogging is different for me now. I appreciate and value each and every reader, but feel Granny's loss and it will take a while for me to regain my composure.
Sometimes people come into your life and make an impact in unexpected ways that is not immediately apparent. But when they leave there is an imprint. I am glad to have known Granny. She has had such an incredible influence in my life and the way I garden.
For example, just this week I grabbed a jar of pickles from storage that were made using her recipe, I planted carrots using her carrot seed mat method, and I began hardening off peppers grown from seed that she shared with me.  Granny has also been on my mind a lot this week as I puttered around the garden.
I already miss reading Granny's frequent blog posts that ranged from gardening to every day adventures, including home improvement, family, and Annie and Otto her two dogs. I miss her worrying about the neighbor's weeds encroaching into her garden. Boy, I miss her energy. Often times I was exhausted simply by reading the things she accomplished in one day. Granny could clean the whole house, garden, cook dinner, and still run laps around many of us younger than she.
I miss catching up on my favorite blogs and finding her comments. She always had something witty or encouraging to say. I miss Granny's links to Daphne's "Harvest Monday" where she would not only show photographs of her harvest for the week, but also the meals she prepared using the harvest. I also miss that she would worry about us if we had not blogged in a while and made every effort to get in touch just to be sure we were ok.
I will always remember how kind, compassionate, and supportive Granny was to new gardeners and bloggers. I loved how she shared her knowledge and life experiences, provided guidance and advice, and offered encouragement. As I continue to blog, I hope to carry some of those qualities with me.
As I say Goodbye to Granny, I realize that a part of her will continue to live on within my heart.
"It takes a minute to find a special person, an hour to appreciate them, and a day to love them, but it takes an entire lifetime to forget them." ~ Author unknown