Finally, true spring weather has arrived here in Maine. Over the past week, the snow receded across the yard like a wave withdrawing from the shore. Although the garden was calling, I remained inside besieged with graphic design project deadlines. Don't get me wrong, I love my work and I love being so busy, but winter was long, harsh, and sunshine and warmth were calling me. I had to settle for wide-open windows that allowed a slight breeze in to chase the stale air of winter out of the house. The music I usually listen to as I work was muted so I could hear the birds singing from outside.
I woke early Saturday morning refreshed and eager to leave the stress of the workweek behind. I let the dogs out and walked to the coop to release the chickens into their pen. It was the first morning that didn't require bundling up with a coat, hat, and gloves. I watched the girls forage around their pen and took a deep breath to take pleasure in the smell of fresh spring air. It was heavy with the fragrance of mud, moss, and decomposing wood. Overall, not a pleasant scent but earthy and organic.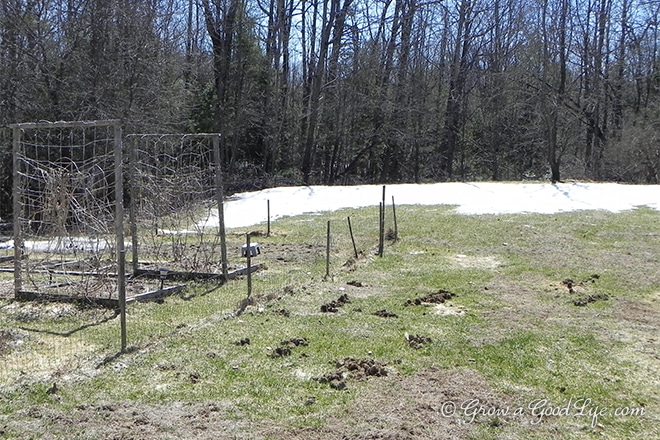 As I looked around, my mind began compiling a mental list of things that needed to be tended to. The yard is a mess and the garden beds are still so wet to work in. The melting snow revealed rodent mounds and mud, and dead foliage. I know soon the grass will green up and push its way through the drab ground and leaves will fill out the woods that surround us but for now everything looks as weary from the long winter as I have been feeling.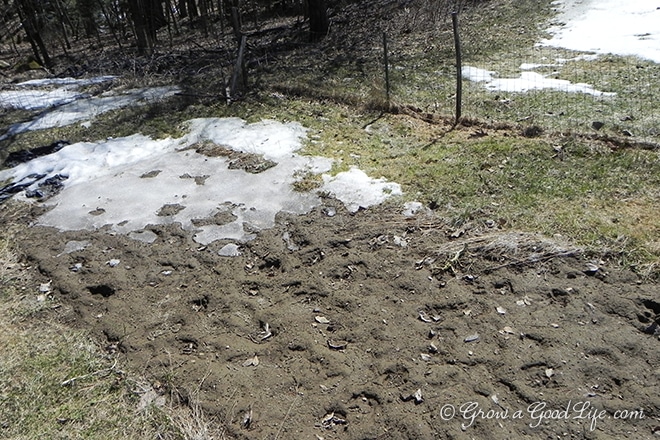 Oh where to begin?
I knew once the snow finally melted this year we would begin scrambling to get things done. Usually I have plenty of time to putter around the yard and prepare the garden beds. Not so this year because the days and nights were much colder than normal and the hardened snow melted slowly. Organizing a list of things to accomplish and setting priorities will be the only way to tackle it all and not drive myself crazy.
First, the spring seedlings will enjoy some sheltered time outside for the first time:
Then, I will ooh and aww over the green that is sprouting in the garden:
Other items on the list:
Yard raking
Branch Trimming
Raised Bed Replacement
Prepare the Garden Beds for Planting
Fix the Garden Fence to Keep the Dogs Out
Trim the Raspberry Canes
Tame the Concord Grape Vines
Clean Out the Chicken Pen and Fill in the Holes
Fix Our Broken Picket Fence
Harden off the Spring Seedlings
Happy gardening!
Like what you see. If so, please consider opting in to the Grow a Good Life Email Newsletter and never miss a post:
[mc4wp_form]