Elizabeth is an Easter Egger chicken or "EE" as they are affectionately called. Easter Eggers are a mixed breed and most carry a blue egg gene.
Elizabeth was the largest in the batch of "day old" chicks purchased from a local feed store at the end of May. From the beginning, I suspected she was maybe a day or two older than the others. Within a few days, Elizabeth's fuzziness sprouted feathers in her wings then her tail. The rest of the flock followed a day or two behind.
Elizabeth was aloof from the beginning. While other chicks watched me as I approached and enjoyed being held, Elizabeth distanced herself and awkwardly endured my handling as I checked her over and squawked the entire time.
I wasn't surprised when Elizabeth began singing the egg song first and I anxiously awaited our first egg. A few days later, she began checking out the nesting boxes. She entered one, fluffed some of the shavings around, and then exited in disgust only to enter the other nesting box to repeat the procedure. The whole time she squawked and screamed at the top of her lungs. It was obvious she was uncomfortable, but what could I do? I felt helpless.
I grabbed a few handfuls of fresh straw from the shed. Elizabeth watched me closely, still screaming as I removed the fake eggs from the nesting boxes and layered the straw on top of the pine shavings and straw already in the box. I made a little pocket in the middle with my hand. Elizabeth followed my lead and settled into the spot and began flicking straw around her.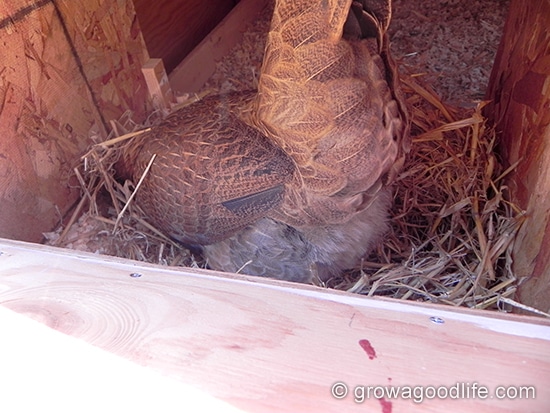 Her screaming ceased and I retreated giving Elizabeth some privacy. When I returned 30 minutes later, there were two pale blue eggs in the box!! Poor girl.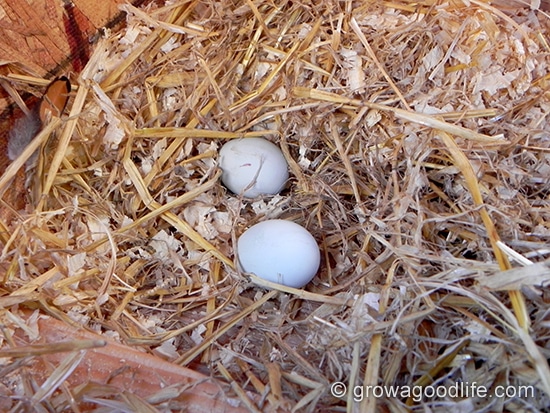 I noticed a difference in Elizabeth's demeanor the following day. She came right towards me at the head of the flock as I changed the water in the coop in the morning. I reached out my hand and gently stroked her side. Usually she would run from my touch, but she stood there quietly chatting at me and seemed to enjoy my contact.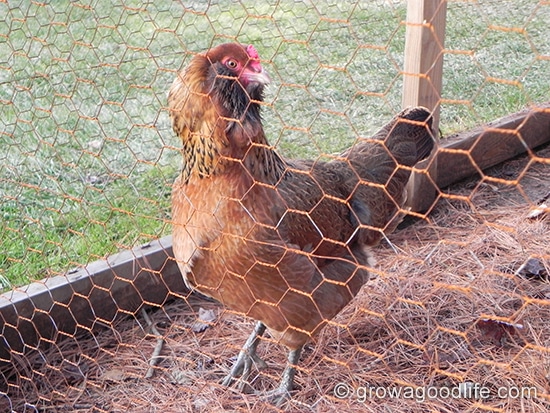 I smiled as I realized that we had reached an understanding. Elizabeth now trusted me. I earned it.
Linking to: Simple Life Sunday Blog Hop