This delicious garden fresh zucchini lasagna is made with thin slices of zucchini instead of pasta noodles. It is a gluten-free alternative with all the flavor of the traditional version. Also freezer friendly for make ahead meals.
I am elated when I am able to make a meal that incorporates so many home-grown ingredients. The last jar of seasoned tomato sauce was used to make this zucchini lasagna. When I make it again soon, I will use my crock-pot tomato sauce recipe with fresh tomatoes.
The zucchini was freshly harvested from the garden along with the onions, garlic, and parsley. The eggs are from our flock of hens. Even the sausage and cheeses came from a farm store nearby. A leafy green garden salad with Italian salad dressing and homemade bread rounded out this meal.
I missed harvesting fresh zucchini from the garden last year. Our neighborhood deer saw to it that I was only to have a few zucchini before they nibbled the plants down to nothing. This year, the plants are under protection of hoops and deer netting. I also doubled the amount of plants I normally grow just in case. I have big plans for preserving zucchini this year.
One of my favorite ways to use zucchini is to make zucchini lasagna with homemade tomato sauce. Often times, I make a double batch and freeze the extras. It is worth the effort to assemble several lasagna casseroles at one time and store the extra in the freezer for a future easy dinner.
I use a knife to slice the zucchini. Cut off a portion to stabilize the zucchini and stop it from rolling. Then slice it carefully into thin, strips, about 1/8-inches (about 3 mm). You can also use a mandolin or even a vegetable peeler to slice the zucchini into strips.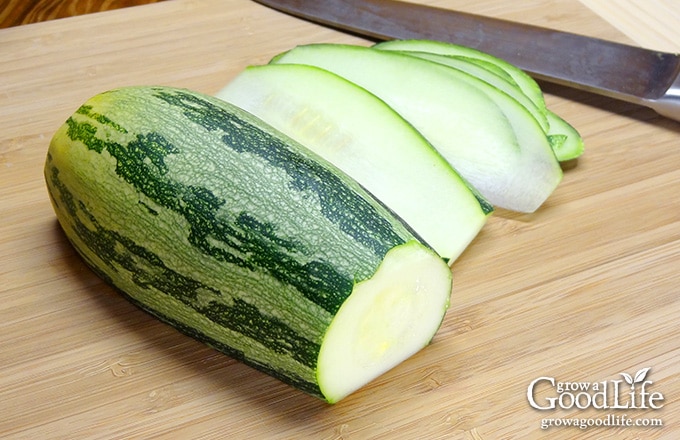 Zucchini Lasagna Recipe
In this tasty recipe, thinly sliced zucchini replaces the traditional pasta noodles. You can also skip the sausage or replace with baby Bella or Portobello mushroom slices for a meatless variation.
Ingredients:
3 medium zucchini
1 pound bulk Italian sausage (optional)
1 tablespoon olive oil
1 garlic clove, diced
1 small onion, diced
4 cups tomato sauce
2 cups ricotta cheese
2 cups mozzarella cheese, grated
1/2 cup Parmesan cheese, grated
2 eggs
1/4 cup fresh parsley, chopped
salt and pepper to taste
Instructions:
1. Rinse and slice the zucchini into 1/8-inch strips (about 3 mm) using a knife, mandolin, or vegetable peeler. Pat the zucchini dry with a clean towel and set aside.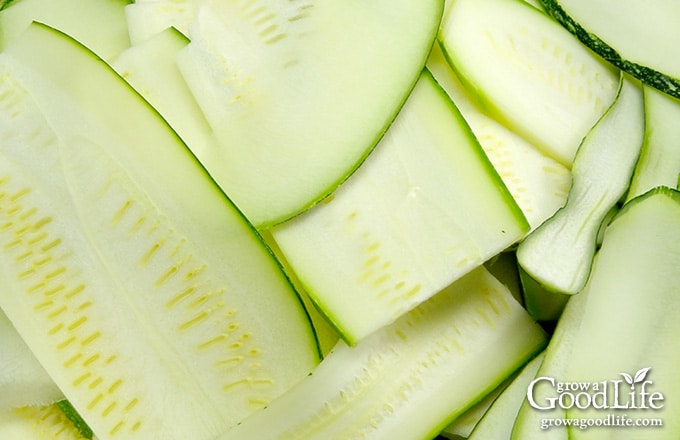 2. In a large skillet, over medium heat, add the olive oil and sauté the onion until it is tender. Add the garlic and sausage and cook it until the sausage is no longer pink. Add the tomato sauce and salt and pepper to taste. Reduce the heat to low and simmer sauce for 15 minutes or longer.
3. In a medium bowl combine ricotta, Parmesan, half of the mozzarella, and eggs. Reserve about 2 tablespoons of parsley to sprinkle on top of the lasagna, and add the rest to the bowl. Mix well and set aside.
4. Preheat oven to 350°F.
5. Ladle sauce to cover the bottom of a 9 x 13 pan. Layer the sliced zucchini over the sauce overlapping the edges slightly. Layer the cheese mixture, and follow with a layer meat sauce. Repeat layering until the pan is full. Top with remaining mozzarella cheese and sprinkle with the reserved parsley.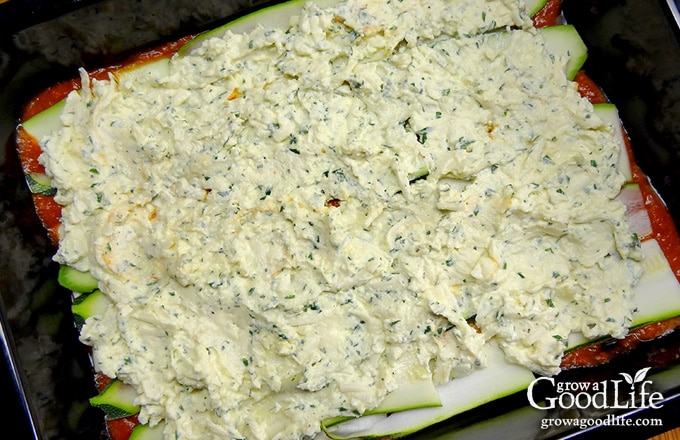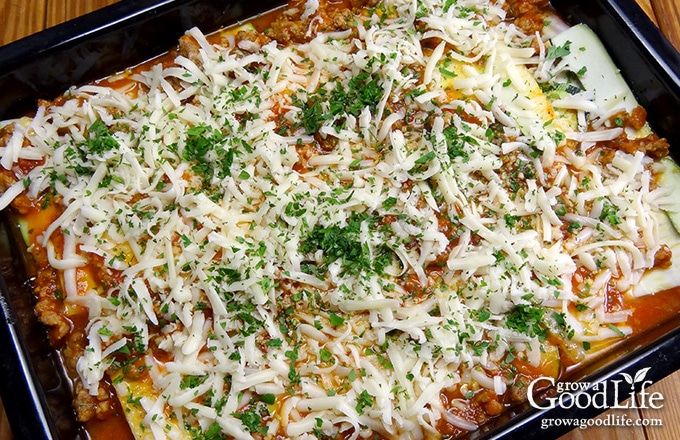 6. Cover the pan tightly with foil and bake for 45 minutes. Then uncover and bake for an additional 15 minutes or until bubbly. Remove the zucchini lasagna from the oven and let it stand for 15 minutes to set before cutting. Serve and enjoy.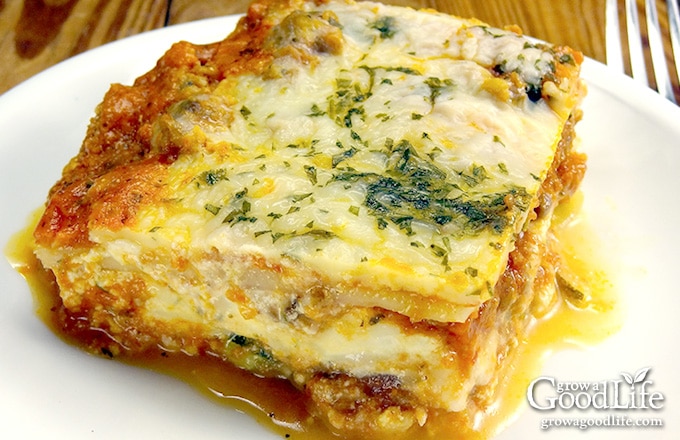 To Prepare and Freeze Zucchini Lasagna:
Prepare and cook the zucchini lasagna as described above. Once the lasagna has cooled, cut and place into freezer containers or freezer zipper bags. Freeze for up to 3 months.
Thaw the frozen zucchini lasagna overnight in the refrigerator before warming. Remove from the freezer container and place it in a baking dish and cover with foil. Bake in a 350°F preheated oven for 30-40 minutes, or until heated through. Let it stand for 15 minutes to set before cutting.
Did you enjoy this article? Then sign up to get FREE email updates, tips, and encouragement so you can Grow a Good Life!