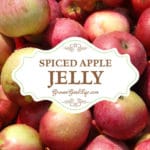 Spiced Apple Jelly Recipe (No Added Pectin)
Ingredients
3

pounds

of apples

3

cups

water

3

cups

pure cane sugar

2

teaspoon

sticks of cinnamon or 1 ground

1/2

teaspoon

ground nutmeg

3

cloves

whole or 1/4 teaspoon ground
Equipment:
Water bath canner

Large Saucepan

Small pot of water over low heat

6

pint

half- jars

Lids and bands

Magnetic lid lifter

Jar lifter

Potato masher

Canning ladle

Canning funnel

Candy thermometer

Kitchen towels
Instructions
Wash the apples plain water, remove any bad spots, and roughly chop into pieces. Use a kitchen scale to weigh out 3 pounds.

Extract the apple juice by combining the prepared fruit in a large saucepan with enough water so that the fruit is barely covered, about 3 cups. Add all spices and stir to combine. Bring to a boil over medium-high heat then reduce to a simmer over low heat. Simmer until the apple's skins are soft and the juices are released. Gently mash the apples with a potato masher and continue simmering over low heat for 30 minutes, stirring occasionally. Simmer low and slow because excess heat can destroy the natural pectin.

Strain through a damp jelly bag or double layers of cheesecloth. Allow the apples to strain for several hours, or overnight. If you want clear jelly, do not squeeze the bag. I care more for flavor rather than appearance, so I often give the bag a squeeze to press out all the juice. Discard solids.

Prepare your jars and lids by washing in warm, soapy water and rinsing thoroughly. Place jar rack into water bath canner, set jars in the canner, add water, and boil jars for 10 minutes to sterilize. Warm your lids in a small pot over low heat. Keep jars and lids warm until ready to use.

Measure out about 4 cups of apple juice and pour into a saucepan, add sugar and stir to dissolve. Bring to a boil over medium-high heat, stirring constantly, until jelly stage. Cooking time varies with each batch because the natural pectin level is different in individual apples. I use all three testing methods but rely on the freezer plate method for the final check. Remove from heat and skim off foam.

Spread kitchen towel on the counter. Use your jar lifter to remove warm jars from canner, drain, and line up on the towel. Use your canning ladle and funnel and add the spiced apple jelly to warm jars leaving 1/4-inch headspace. Wipe the rims. Use your magnetic lid lifter to lift lids out of the warm water, center lid on the jar, and screw on band until it is fingertip tight.

Using jar lifter, place jars carefully into canner leaving space in between them. Once jars are all in canner, adjust the water level so it is at least one inch above the jar tops. Add more boiling water if needed so the water level is at least one inch above the jar tops. When adding water, use the hot water from the small pot your lids were in. Pour the water around the jars and not directly onto them.

Cover the canner and bring to boil over high heat. Once water boils vigorously, continue boiling for 5 minutes at altitudes of less than 1,000 ft. (adjust processing time for your altitude if necessary).

When processing time is complete, turn off heat and allow the canner to cool down and settle for about 10 minutes. Spread a kitchen towel on the counter; remove the cover by tilting lid away from you so that steam does not burn your face. Use a jar lifter to lift jars carefully from canner and place on the towel. Allow the jars to cool for 12 to 24-hours. You should hear the satisfactory "ping" of the jar lids sealing.

After 12 to 24-hours, check to be sure jar lids have sealed by pushing on the center of the lid. The lid should not pop up. If the lid flexes up and down, it did not seal. Refrigerate jar and use up within a few days.

Remove the screw on bands and wash the jars. Label and date the jars. Store your jars in a cool, dark place and use within 12 months. Yields about 4-6 pint jars depending on the natural pectin level in your apples.
I am reaching the conclusion of the apple-preserving marathon for the year. This was an exceptional year for apples and I was determined to preserve all the bounty that I could. I've been baking a lot of apple goodies and making many batches of crockpot applesauce. There is a lot of canned applesauce, apple juice, spiced apple jelly, and crabapple jelly on the food storage shelves in our basement. I am thankful for such a bountiful harvest.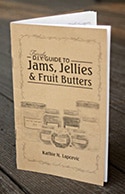 The Fiercely D.I.Y. Guide to Jams, Jellies, & Fruit Butters by Kathie Lapcevic is an amazing resource for both new and seasoned canners. It is filled with easy to follow canning instructions and over 13 unique recipes for making jams, jellies, and fruit butters. Available in both Printed Booklet and PDF eBook formats.
> Click to learn more and purchase.
Did you enjoy this article? Then sign up to get FREE email updates, tips, and encouragement so you can Grow a Good Life!