Are you sick of Zucchini yet?
I have baked, sautéed, stuffed, and grilled about as much as I can stand right now. But the plants are showing no signs of stopping and will continue producing until disease or frost takes them down.
By this time of the year, I stop trying to find new ways to use zucchini and summer squash and focus instead on ways to preserve zucchini to use over the winter months.
Here are 3 Ways to Preserve Zucchini:
1. Freeze Zucchini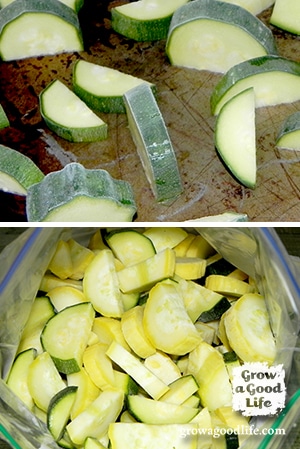 I blanch and freeze to preserve zucchini two ways, shredded and sliced into bite-sized pieces. Blanching the zucchini before freezing destroys enzymes and bacteria that can cause nutrition and flavor loss when stored in the freezer.
Thawed shredded zucchini can be used to make frittatas, quiche, and baked goods such as zucchini bread and muffins. Sliced pieces can be added to stir-fry, pasta and soup.
Equipment:
Zipper type freezer bags
Large pot of boiling water
Large bowl filled with cold water and ice
Large slotted spoon
Knife
1. Use freshly harvested, small to medium size zucchini with no blemishes or soft spots. Wash to remove any residue and soil. Trim off ends.
2. Think about how you use zucchini and slice or cube it accordingly. If shredding, use a box grater and jump to 6. I don't blanch my shredded zucchini.
3. Blanch sliced or cubed zucchini in a large pot of boiling water for 3-minutes.
4. Remove from boiling water using a slotted spoon and place in ice water until cool.
5. Drain thoroughly and pat dry.
6. Package shredded zucchini into freezer bags. I like to measure it out into 2-cup increments because that is the amount my favorite bread and muffin recipes require. Remove as much air as you can, label, and freeze flat for easy storage. Spread out zucchini slices or cubes on a cookie sheet and freeze until solid, then add to freezer bags. This will prevent the zucchini from sticking together and allow you to grab a handful when needed.
---
2. Dehydrate Zucchini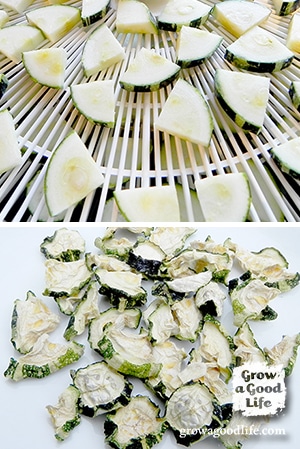 If you have a food dehydrator, put it to use to preserve zucchini by drying it. Dried zucchini takes up very little space. Believe it or not, about four pounds of zucchini will shrink enough to fit into one pint sized jar.
Dehydrated zucchini is easy to add to simmering soups and pasta dishes. For pasta, just add the dehydrated zucchini to the boiling water at the same time you add pasta. By the time the pasta is done, the zucchini will be rehydrated too and ready for your favorite sauce.
Equipment:
Food Dehydrator or Oven*
Knife
1. Use freshly harvested, small to medium size zucchini with no blemishes or soft spots. Wash to remove any residue and soil. Trim off ends.
2. Slice zucchini into 1/4-inch slices.
3. Lay the zucchini slices in a single layer on your dehydrator trays.
4. Set the temperature between 125°F and 135°F (or per your dehydrator's instructions). Drying time ranges between 5-11 hours. Zucchini is brittle when dry.
5. Store dried zucchini in an airtight tin jar.
*If you don't have a food dehydrator, you can also dehydrate zucchini in your oven on a baking sheet at 175 degrees until zucchini is brittle (about 2-hours). Watch carefully.
---
3. Pickle Zucchini
There are many ways to preserve zucchini by pickling including, dill pickles, sweet pickles, and relish. This is my favorite recipe for Sweet Bread & Butter Zucchini Pickles:
Sweet Bread & Butter Zucchini Pickles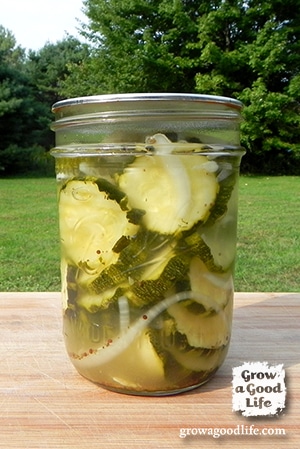 (Yield: 6 pints)
4 lbs zucchini, sliced
1 cup sliced onions
1/3 cup canning or pickling salt
2 quarts crushed ice or ice cubes and water
2 cups sugar
2 tablespoons mustard seed
1 tablespoon dry mustard
1 teaspoon turmeric
1 teaspoon celery seed
1 teaspoon peppercorns
3 cups vinegar
1. Combine sliced zucchini and onions a large bowl. Sprinkle salt over top, cover with ice and water, and let stand 3 hours. Drain and rinse thoroughly.
3. In a large pot, combine sugar, spices and vinegar. Heat just to boiling. Add drained zucchini and onion slices and return to boil. Reduce heat and simmer for 10 minutes.
4. Pack hot zucchini and onions loosely in clean, hot pint jars leaving 1/4 inch of headspace. Add hot liquid to the jars. Remove air bubbles. Adjust jar lids. Process in boiling water bath for 10 minutes.
---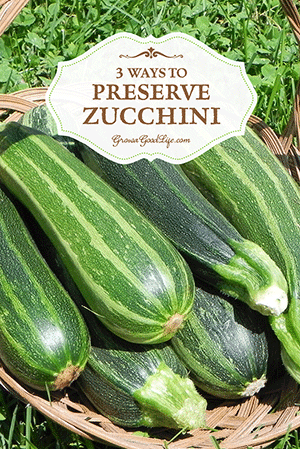 Zucchini and other Summer Squash are very prolific. It is easy to become overwhelmed by the harvest bounty collected from even a few plants.
I hope that knowing you can preserve zucchini and summer squash to enjoy during the winter months helps you deal with the abundant crop that just keeps on giving.