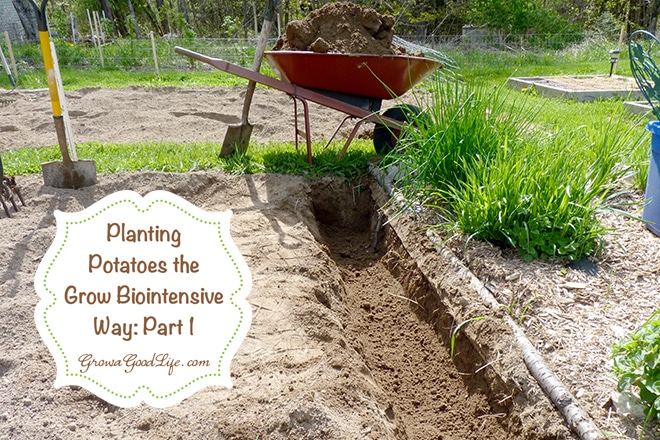 As I mentioned in previous posts, I am trying new method of planting potatoes this year. Over the winter months, I did my research on the garden philosophy of "Grow Biointensive." The spacing for potato is 9-inch centers by 9-inches deep while double digging. No hilling is required. The rows are planted in an offset, or hexagonal spacing. The closer spacing helps maximize space and reduce water loss.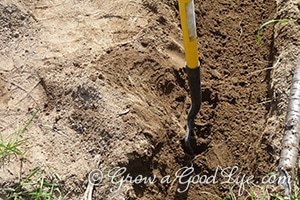 The first step was digging a row about 12 inches deep. The soil from this first row is placed into a wheelbarrow. Once the row is dug, compost and an organic fertilizer are added to the trench. Then a digging fork is used to loosen the soil in the trench to a depth of another 12 inches, which helps allow oxygen into the soil and permits the roots to penetrate easier.
Since the soil was aerated and fluffed up. I used a bulb planter to be sure the potatoes were planted 9-inches below the soil level. I used a 9-inch stick to help me measure both the depth of the holes and to space the seed potatoes at 9-inch centers.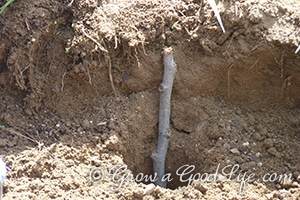 Once the first row was planted, the next row was double dug. The soil from the second row was used to cover the first. The next rows followed in the same way until the bed was planted. Then the reserved soil from the wheelbarrow was used to cover the last row of planted potatoes.
Once the soil was leveled off, soaker hoses were laid along the bed and mulched with straw to help conserve moisture and keep the weeds down.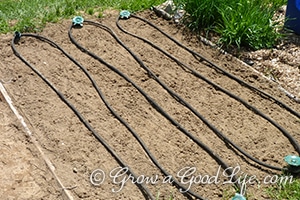 I didn't follow the "Grow Biointensive" method exactly (double digging is HARD). I also didn't use a digging board, which is recommended to help distribute your weight so you don't compact the soil. We have one more potato bed to plant and I am thinking of modifying the method a bit further.
Please sign up for our Grow a Good Life Newsletter and receive our posts via email.
[mc4wp_form]