Even with my crazy, busy schedule lately, I take the time to walk through the garden at least once a day. It calms me to be among the plants that I tend to that provides us with nourishing, healthy, organic food.
I carry a basket with me during this walk in order to harvest what is ready. I often munch on pole beans as I frown at the weeds that are taking over, check to see if there are any problems with pests or diseases, and plan what garden tasks to accomplish over the weekend.
Spotting Late Blight
Several weeks ago, I spotted what looked like Late Blight on the foliage of my Amish Paste tomatoes. A quick check online at MOFGA's 2014 Pest Reports and USAblight confirmed that Late Blight had been recently reported in my area.
As a precaution, I harvested all the partially ripe tomatoes, quarantined them to the shed, trimmed off the diseased foliage, bagged and disposed it with the household trash, and watched it to see if it spread.
Unfortunately, it did. Not as quickly as in 2009 because of the dry weather, but rapidly enough for me to realize I had to take action.
2009 was a Crash Course in Late Blight:
I've been rather paranoid about Late Blight ever since the 2009 pandemic that that took down much of the tomato plants in the Northeast. Like many backyard gardeners, I knew nothing about the disease at the time and had never experienced it before.
The 2009 late blight pandemic was an unusual situation. First, a large plant supplier provided late blight infected plants to big box stores along the East Coast. Then the cool and damp weather allowed the spores to multiply and spread quickly. Eventually, most of us on the East Coast lost our tomatoes that year.
Late blight caused by the fungus, Phytophthora infestans, which primarily attacks plants in the Solanaceae family such as potato and tomato crops. This is the same disease that caused the Great Potato Famines in Europe and Ireland the 1840-50.
The fungus makes its first appearance as water soaked lesions on the younger leaves at the top of the plant. Then continues to spread by spores eventually infecting the entire plant including fruit and stems. The result is the tomatoes rot.
Gardening blogs and forums began reporting late blight in June of 2009. I studied the photos online and scouted my plants daily. The weather in July 2009 was cold and rainy and the perfect situation for a fungus to spread. Eventually my tomato plants began showing symptoms of the Late Blight disease and were pulled before even a single tomato ripened (See: Pulling Late Blight Infected Tomato Plants).
Visit the Cornell University website for more information on Late Blight.
So what do you do when you discover late blight in your garden??
Unfortunately, Late blight is not a treatable disease and it will kill your plants. In addition, late blight is highly communicable disease that is carried on wind and will infect other gardens and farms within a 50-mile radius. So it is important to destroy infected plants once you confirm you have late blight.
If you are unsure that your plants are infected with late blight, contact your local Extension Office. Often times they will be able to identify the disease by looking a good quality photo. Once confirmed, you need to destroy all infected plants.
1. Pull the Late Blight Infected Plants: Pull and remove infected plants, bag up the foliage and unripe tomatoes into black trash bags, and disposed it along with the household trash. Do not compost diseased plants or fruit. Most compost piles are not hot enough to kill the spores and you are risking re-infecting your garden next season.
2. Prevent Overwintering Late Blight: Late blight can only survive on living tissue. Winters in the North will kill any spores that may linger above ground on trellises and tomato cages. However, late blight CAN over winter in plant debris, seeds, and potato tubers underground beneath the frost line. To be safe, make sure all plant debris is cleaned up at the end of the season, purchase fresh seeds for next year, and pull any volunteer potatoes and tomato plants that sprout up.
3. Start Again Fresh Next Year: At this point all we can do is cut our losses and hope for a better growing season next year. In all, I probably lost about a month of potential tomatoes. Even though my tomato season was cut short this year, I feel lucky because I was able to harvest a lot of tomatoes before the disease struck. I have already filled my pantry with plenty of canned tomato sauce and salsa from healthy tomatoes.
Luckily, the potatoes had already died back when the Late Blight disease showed itself on the tomato plants. Since there was no live foliage, I don't expect the potatoes to be infected. To be on the safe side, I bagged up the dead potato foliage. The potato tubers will not be dug up until later in the fall once all danger of the disease is gone.
"A garden is never so good as it will be next year." ~ Thomas Cooper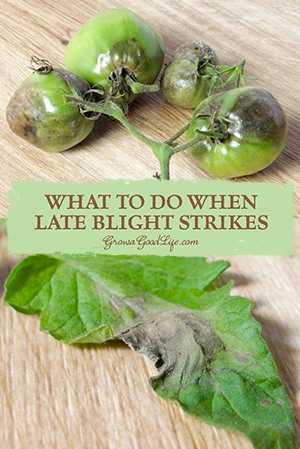 Further Reading:
Did you enjoy this article? Then sign up to get FREE email updates, tips, and encouragement so you can Grow a Good Life!