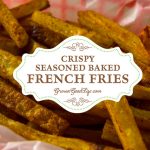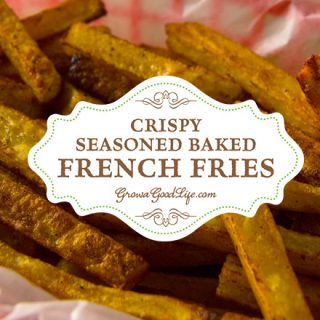 Crispy Seasoned Baked French Fries Recipe
Yes, you can make crispy seasoned baked French fries at home without deep-frying in vegetable oil.
Ingredients
1

pound

potatoes

2

tablespoons

extra-virgin olive oil

1

teaspoon

taco seasoning

1

teaspoon

paprika

1/8

teaspoon

pepper

salt to taste
Instructions
Scrub potatoes, peel if desired, and slice into 1/2-inch strips. Place potatoes into a bowl and cover with cold water. Let the potatoes soak for at least 15 minutes to extract some of the starch.

Preheat your oven to 425˚F.

Add the olive oil, taco seasoning, paprika, and pepper to a large bowl and mix to combine. Set aside.

Drain potatoes, rinse, and dry well with a kitchen towel. Add the potatoes to the large bowl and toss to mix with the seasoned olive oil.

Spread the potatoes out in a single layer on two baking sheets. Bake in a preheated oven for 30-40 minutes, until crispy. Turn once during baking so the fries brown evenly. Begin watching them at the 30-minute mark, because some potatoes cook faster than others. Add salt to taste and serve warm with homemade marinara sauce or your favorite dipping sauce.

Did you enjoy this article? Then sign up to get FREE email updates, tips, and encouragement so you can Grow a Good Life!