Thank you for your interest in advertising at Grow a Good Life. This page will give you the some of the information you need.
Why Advertise or Sponsor Grow a Good Life?
Grow a Good Life documents our journey to live a more self-sufficient life. Along the way, I write about our experiences with growing our own food, backyard chickens, preserving the harvest, and living a simple life in rural Maine. My goal is to provide researched articles about gardening or homesteading related subjects and wish to promote and support products I believe my readers would be interested in.
Grow a Good Life is a little over a year old but increasing its reach every day. While you may be drawn to more high traffic websites, we can provide you with a more targeted audience resulting in higher conversion rates.
Do you want to reach an active community of Homesteaders, Gardeners, Preppers, and Foodies?
Grow a Good Life is involved a large and growing community of folks and fellow bloggers from all different parts of the world and various backgrounds who are striving to live a more self-sufficient lifestyle. Topics focus on gardening, herbalism, living off-grid, homesteading, livestock, alternative energy, preparing for disasters, and real food.
If this is the kind of audience you would also like to target with related advertising, please consider advertising on this site.
Encouraged Products
The products, services and topics that are encouraged on this site include but may not be limited to:
Organic Gardening
Backyard Chickens
Homesteading
Canning & Preserving the Harvest
Self-Sufficiency
Herbal Medicine
Survival or Preparedness
I am very open to discussing ways to work together to spread the word about your relevant product or service. Contact me for more details.
The numbers below continue to grow each month as I learn more about Social Media and continue to network.
Statistics as of March 2015:
81,011 Sessions/Visits (Google Analytics)
71,873 Users/Unique Visitors (Google Analytics)
104,110 Page Views (Google Analytics)
8,300 Facebook Followers
2,400 Pinterest Followers
992 Twitter Followers
Advertising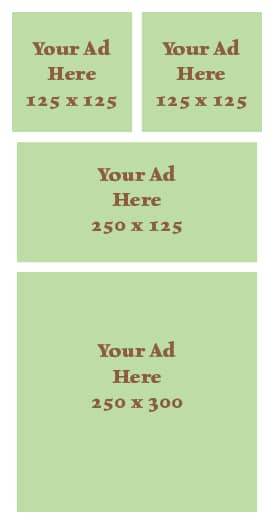 Sidebar Banner advertising is for periods of 1 month or 3 months paid in advance. Payment is through PayPal. I only accept advertising that is family friendly and reserve the right to refuse any ads that I don't feel will fit my audience.
Banners or widgets will appear on all pages including the Home page and blog pages. Advertising is accepted as a first come first serve basis. New banners or widgets are placed at the bottom of the block and will move up as other advertising expires. Advertising is accepted for a maximum of 3 months but current advertisers will be offered renewal at the current price at the end of the agreed term.
125 x 125 Square Sidebar Banner:
$20 per month or $50 for 3 months
250 x 125 Rectangular Sidebar Banner:
$30 per month or $70 for 3 months
250 x 250 Square Sidebar Banner:
$40 per month or $90 for 3 months
Banners are supplied by the advertiser. Other sizes may be quoted. Please contact me for availability options.
Product Reviews
If you have a product you would like me to review, please contact me to discuss terms and rates. I like to combine a review with a giveaway to improve reader interest and knowledge about your product. Products that would fit the Grow a Good Life audience include anything related to:
Organic Gardening
Backyard Chickens
Homesteading
Canning & Preserving the Harvest
Self-Sufficiency
Herbal Medicine
Survival or Preparedness
The product must be something that I would personally endorse; otherwise, I won't review it on this site. All compensated reviews will be clearly indicated with a disclosure within the post and will be my honest opinion.
Still Have Questions?
Please feel free to get in touch with any questions or if you want more details:
[contact-form to='grafixmuse@gmail.com' subject='Advertising'][contact-field label='Name' type='name' required='1'/][contact-field label='Email' type='email' required='1'/][contact-field label='Website' type='url'/][contact-field label='Comment' type='textarea' required='1'/][/contact-form]